Why fly with us ?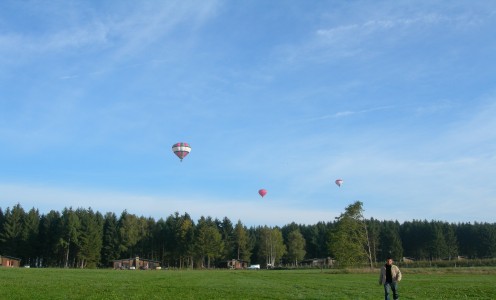 You are going to choose Aerovolare Balloon Team for two reasons: first our "Fair Weather Guarantee": with Aerovolare you will fly on a real sunny day, with a comfortable visibility, good and calm weather: no flight in drizzle with Aerovolare!!

The second reason: our "SECURE MAX" engagement: a maximal effective security on board of our balloons: highest standard flight equipment AND experienced top pilots!
Aerovolare Balloon Team is dedicated to making your ballooning experience as memorable and pleasurable as possible, from the very first moment you enquire with us, until time we say goodbye, after Champagne celebrations are over! All Aerovolare balloon pilots and instructors are commercial rated and have logged several thousands hours of balloon flying all over Europe.
Our balloon fleet is less than 3 years old, and give us the flexibility to fly smaller exclusive groups or larger family groups or business conferences. Our balloon baskets are luxuriously padded for your own comfort and safety. Our burners are designed from the hardest technology - Cameron UK made - , making them powerful and safe systems.

Our 100% safety record is outstanding and second to none, a feat to which we are proud to maintain, but please rest assured that if weather conditions are permitting, we will do our best to get you up, up and away!