Become a balloon Crew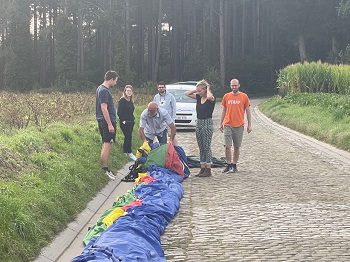 Become a "Crew" of our hot air balloons and win a free balloon flight!!
Are you tempted by the real aerostatic adventure? Become a team member in our hot air balloon "crew"!! What does it consist of? Simply to help us get our marvelous balloons in flight: help with balloon inflation (it's sporty!), Installation of propane bottles in the basket, "pursuit" of the balloon in flight as a team, in one of our vehicles ( we call that: recovery), then the disassembly of the balloon after the flight.
Everything lasts +/- 3 hours, and we usually start three hours before sunset. You will of course participate in the glass of Champagne with our passengers and our professional pilots in the landing field, and exchange your emotions. You are not required to drive our vehicles. Minimum age: 16 years old.
Are you passionate about it? If you participate in 5 balloon recoveries for our pilots, you will receive a free flight ticket (1st class tradition ticket) valid one year.
What if you were really hooked? Several of our team members have started training as balloon pilots, will you be one of them?
Have you made up your mind, do you want to give it a try? Send us your details today: info@aerovolare.be