Overfly the Ardennes & Meuse river!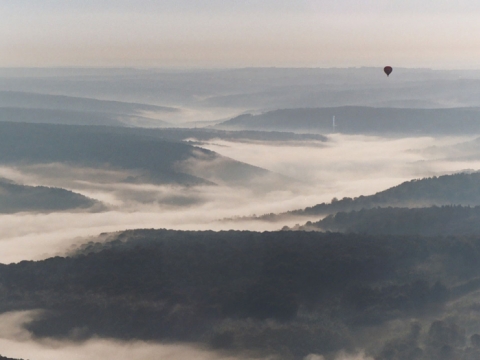 Among all flying regions in Belgium and France, the Meuse river valley is certainly one of the most splendid scenery to be discovered from one of ours hot air balloons!
You can book a montgolfiere for a "AEROVOLARE PRIVATE FLIGHTS" (family flights) and make your dream come true! Beautiful forests, meandering rivers, exceptionnal observation of local wildlife: the landscape of belgian Ardennes region is really famous for its elegance with the Meuse river and affluents flowing through green hills, ancient bridges and surroundings: a real paradise!
You will enjoy a superb and magnificent panorama of south Belgium region - just near Luxemburg - , really an original and amazing way of discovering breath-taking landscapes.
Don't wait! Book now!: + (32) (0) 0472 222 333